The e-Path
secure communications channel payment gateway
provides the securely hosted PCI compliant front-end
payment gateway
website to enable your customers to safely enter their credit card details to make a payment charge authorisation to you.
Every e-Path merchant has their own secure and private gateway system which displays their own logo, graphic or header. It is not a case where a single generic payment page URL or system has to be shared by all and sundry like with some other payment gateway services.
With e-Path you will have your own exclusive
credit card payment gateway system
and exclusive secure URL created specifically for you and your online customers, complete with your own unique encryption and decryption systems and with THAWTE SSL protecting the live connection. As we understand it, this is a world first for a payment gateway.
The actual process - simple and smooth
It's all about secure and private communication - from your website to your exclusive e-Path gateway then back again. Your website or shopping cart sends your customers to your secure e-Path payment gateway to where they make their credit card payment charge authorisation to you within a fully
PCI compliant and THAWTE SSL protected environment.
Your gateway will only accept secure communications from your website or shopping cart. The e-Path acknowledgment/receipt page is then displayed immediately prior to automatically returning the customer back to your website or shopping cart. It is a seamless, trouble free and smooth process.
Process flow diagram: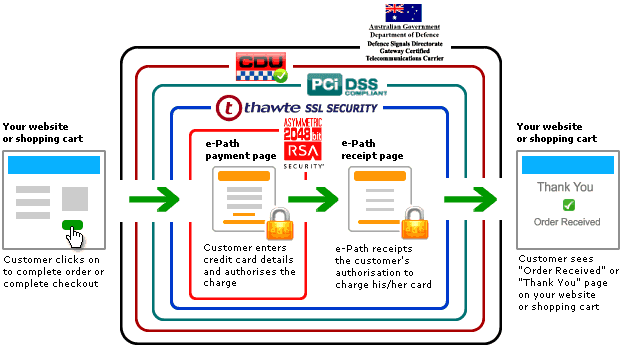 Quick links to security provisioning as depicted in above diagram:

2,048bit Asymmetric Cryptography


Thawte SSL

PCI DSS - Payment Card Industry Data Security Standards

CDU - (Critical Data Unplugged)

Defence Signals Directorate Certified Telecommunications Carrier
To experience this how things flow please visit

e-Path payment gateway demonstration
.
e-Path instantly notifies you once a credit card charge authorisation has been made. You login to your secure e-Path admin and print out your customer's credit card charge authorisation. You then have a hard copy of your customers payment details just as you would if you received a credit card payment by fax, over the phone or by physical mail postal order. If you want to accept the order and charge the card then you simply log in to your own

merchant account facility
and charge the card.
This is the ideal system for those who do not want their
payment gateway
to instantly accept all online orders and charge cards live and blindly online without them knowing. e-Path finally puts you in control.
Credit card details ONLY with the bank approved merchant account owner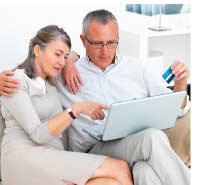 One of the most tangible security advantages of the e-Path system is that it ensures credit card details end ONLY with the official bank approved
merchant account
owner and are completely removed from being permanently electronically stored online by the
payment gateway
or on any storage device, database, system or network.
Not only that, e-Path is the only payment gateway that absolutely guarantees merchants can ensure their customers credit card details will not even exist after the transation has been performed on the card. The is a brand new level of cardholder data security that even goes 'above and beyond' PCI. We don't need to tell you how safe credit card data is when it doesn't even exist!!!
Become instantly PCI compliant online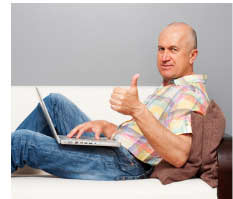 Your own website does not touch credit card data and thus remains totally devoid of any association with credit card details in the first place. That's e-Path's job.
This removes your website or shopping cart from requiring its own
PCI DSS compliance certification
- which is now a requirement for any website or shopping cart that transmits, stores or processes credit card data in any way.
With e-Path safely handling credit card data your online credit card handling activity is 100% compliant with PCI. A nice relief and even more money saved!!
Use e-Path and

the right merchant account
and you will soon be
accepting credit card payments online
with minimum expense and without many of the major concerns and risks normanly faced by online merchants.
One of the most significant advantages of e-Path is your customers are entering their credit card details into a completely dedicated professional payment gateway system specifically engineered to keep them and their credit card details safe during and after the payment process.
It's certainly not a secret - consumers are becoming increasingly cautious about entering their private credit card details into websites on the internet. Anyone can easily grab a cheap SSL cert and add a webform to ask for credit card details on any website. In todays security aware environment the 'one site that does all' scenario doesn't cut it any longer especially when dealing with highly sensitive credit card data. If consumers don't feel safe they will not part with their credit card details and you may lose vital sales.
e-Path helps to remove this concern and instills confidence in the critically important online payment process. The consumer knows their credit card details are being handled securely the instant they see your own formidable e-Path secure system move in to take good care of them and their credit card details.