e-Path Pty Ltd is an Australian and global provider of its brand marked
manual credit card payment gateway
service. e-Path Pty Ltd is an Australian registered company and is 100% Australian owned and operated.
"Don't they know us Americans invented the 'real time' online credit card payment processing system?

How dare anyone have the hoot'n cheek to come up with a more secure and less expensive alternative system to how we've got the online world doing things.

So, where does this new whipper-snapper of a system hail from? ....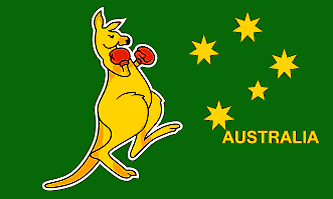 .... shoot'n tarnation, what is it with those Auzzies?"

How it all started - a brief background of the e-Path project
In 2004 in Australia, an IT specialist programmer and a now retired bank manager, both brothers, decided to embark on a journey to engineer a payment gateway system, from the ground up, that aimed to eliminate recognised core root causes of vulnerability and risk inherent within the current
online credit card processing system
.
The enormity of the challenge to devise a completely new system to
accept credit card payments online
was well overshadowed by both brothers' genuine determination to establish a much safer and less expensive method of accepting credit cards from the internet - one that would help to finally turn the tide in the fight against
online credit card fraud
and identity data theft once and for all.
It was clear that such a bold objective demanded a completely fresh and clean-slate approach. The mad dash for automation, which had driven the online credit card processing system's architecture from the very beginning, and which had inadvertently given criminals the perfect made to measure environment from which to target and exploit, was completely passed over.
e-Path was to be a system that was to be void of the very mechanics that exposed credit card and personal identity information to online threat in the first instance. e-Path was to be a system where, for the first time, the online business owner was to be hard-coded protected from anonymous individuals being able to transact stolen credit cards 'live' on the open internet and directly into the merchant account of the business owner without the business owner knowing - which is exactly how almost all of online credit card fraud, near 2 billion dollars worth yearly, is perpetrated in the world today.
Audacious objectives to say the least.
Good things take time
The planned six month development time frame together with the perceived costings of the project proved inadequate as the overall e-Path objectives quickly evolved from being solely focused on online architecture to also include a goal to terminate risks associated with data being stored electronically on the receiving business owner's systems, i.e., any internet connected system or network, including home and small business computer systems, lap top computers, IPads, mobile phones etc. The later advent of PCI DSS confirmed to us this direction was a prudent move.
The investment delivered, and so near two years after the project was commenced e-Path was proudly launched in January of 2006.
Almost immediately the industry began scratching their heads trying to determine how best to deal with a payment gateway system that did not permanently store any highly sensitive credit card or identity data within its systems and that also did not allow any anonymous individual on the open internet to instantly transact live into the merchant account without the business owner knowing.
Being the first payment gateway of our type meant there was no precedent the industry could use to judge or assess e-Path by. In fact before e-Path it wasn't considered possible that any credit card payment gateway system could operate without permanently storing critically confidential credit card and identity details online within its systems (See

CDU - Critical Data Unplugged
- the ultimate security ideal for protecting critically confidential data in an internet connected world).
Manual systems that captured credit cards online that then enabled offline processing were certainly nothing new. However, an online credit card payment gateway that used full strength and multiple instances of asymmetric cryptography (2,048bit encryption) on an individual per gateway basis completely different for each gateway; each with their own separate and unique secure payment page URL; that provided the PCI DSS compliant and THAWTE SSL protected environment for each individual gateway client; that did not require
bank merchant accounts
to be sitting open and accessible to anonymous individuals on the world wide web; and that also did not permanently store any credit card, transaction data or identity information online or within its systems; was totally new.
This mix of well established and new generational security bundled in a single payment gateway service had not existed before e-Path.
Objective accomplished
e-Path now provides business owners all over Australia with a safe and secure CDU and PCI DSS compliant method to receive
credit card payment authorisations from their websites
and shopping carts for manual processing offline into their merchant account facilities.
e-Path also provides our payment gateway service to business owners outside Australia who have merchant account facilities with banks in New Zealand, United Kingdom, Europe, South Africa, United States and Canada. The list is growing. Just like a fax machine or a telephone e-Path knows no borders.
Online business owners, their
online credit card paying customers
and even the merchant account providers themselves from all around the world are now benefiting from completely new levels of protection and security via a new system that was very proudly conceived and engineered right here in Australia.
Today e-Path, combined with the vigilance of those who use e-Path as their
payment gateway
, is indeed slowly but surely making a highly tangible contribution towards ending online credit card and identity theft as we know it. To see exactly how we do this visit

CDU (Critical Data Unplugged)
and

e-Path Security
.
See also ...

The e-Path Credit Card Payment Gateway

CDU (Critical Data Unplugged)

Credit Card Payment Gateway Security

Apply for e-Path Now!