e-Path Pty Ltd is an Australian and global provider of its brand marked
manual credit card payment gateway
service. e-Path Pty Ltd is an Australian registered company and is 100% Australian owned and operated.
"Don't they know us Americans invented the 'real time' online credit card payment processing system?

How dare anyone have the hoot'n cheek to come up with a more secure and less expensive alternative system to how we've got the online world doing things.

So, where does this new whipper-snapper of a system hail from? ....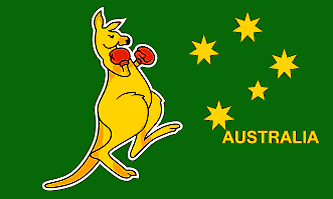 .... shoot'n tarnation, what is it with those Auzzies?"

How it all started - a brief background of the e-Path project
In 2004 in Australia, information and security technology businessman
Peter Thwaites
together with his now retired bank manager brother Christopher, decided to embark on a journey to engineer a payment gateway system with the core objective to eliminate recognised root causes of vulnerability and risk inherent within the current
online credit card processing system
.
Turning the tide in the global fight against
online credit card fraud
and credit card/identity data theft meant a complete rethink and a new fresh approach. The fixation with keeping things automated and solely internet-based, which had driven the online credit card payment processing architecture from the very beginning and which had inadvertently given criminal elements and fraudsters a made to measure environment from which to target and exploit was completely passed over.
e-Path was to be a system that finally removed highly sensitive credit card and identity data from being electronically and permanently stored within any online network, database or storage device environment. Further, e-Path was to become a system that stops credit card payments being transacted live and blindly on the open internet without the business owner's knowledge, thereby bringing to a swift end the very method used to perpetrate almost the entirity of online credit card fraud in the world today.
Audacious objectives to say the least.
Good things take time
In order to meet these objectives e-Path quickly evolved in to a secure communications channel manual system that allowed merchants themselves to control their own credit card charging processes safely offline, rather than everything occurring automatically and blindly online. This in turn meant our appeal would be limited to only those smaller merchants accepting limited numbers of credit card payments daily, a situation we were happy to accept when it means ending credit card fraud from being perpetrated live on the open internet and ensuring cardholder data no longer exists online either electronically or otherwise.
And so near two years after the project was commenced e-Path was proudly launched in January of 2006.
Almost immediately the industry began scratching their heads trying to determine how best to deal with a payment gateway system that did not permanently store highly sensitive credit card or identity data electronically within its systems and that also stopped anonymous individuals on the open internet from instantly transacting live into the merchant account of the business owner without their knowledge.
Manual systems that captured credit cards online that then enabled offline processing were certainly nothing new. However, an online credit card payment gateway that used full strength and multiple instances of asymmetric cryptography (2,048bit encryption) on an individual per gateway basis completely different for each gateway; each with their own separate and unique secure payment page URL; that provided the PCI DSS compliant and THAWTE SSL protected environment for each individual gateway client; that did not require
merchant account facilities
to be sitting open and accessible to anonymous individuals on the world wide web; and that also did not permanently store any credit card, transaction data or identity information online or within its systems; was totally new.
This mix of well established and new generational security bundled in a single payment gateway service had not existed before e-Path.
Objective accomplished
e-Path now provides business owners all over Australia with a safe and secure PCI DSS compliant method to receive
credit card payment authorisations from their websites
and shopping carts for manual processing offline into their merchant account facilities.
e-Path also provides our payment gateway service to business owners outside Australia who have merchant account facilities with banks in New Zealand, United Kingdom, Europe, South Africa, United States and Canada. The list is growing. Just like a fax machine or a telephone e-Path knows no borders.
Online business owners, their
online credit card paying customers
and even the merchant account providers themselves from all around the world are now benefiting from completely new levels of protection and security via a new system that was very proudly conceived and engineered right here in Australia.
Today e-Path, combined with the vigilance of those who use e-Path as their
payment gateway
, is indeed slowly but surely making a highly tangible contribution towards ending online credit card and identity theft as we know it.
See also ...

The e-Path Credit Card Payment Gateway

Credit Card Payment Gateway Security

Apply for e-Path Now!